The Carnaval de Rio exhibition in Nice allows you to admire the magnificent, I would say incredible, costumes of the Brazilian carnival up close. And to learn a little more about the links between the carnival of Nice and that of Rio.
Rio carnival exhibition in Nice at the Palais Massena
Here are some photos of the Carnival of Rio exhibition taking place at the Massena Museum.
Nice and the fabulous Rio Carnival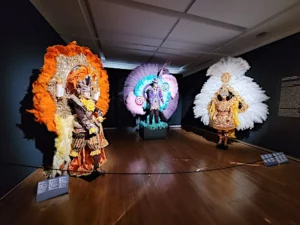 This Massena museum, museum of history and art of Nice, in addition to its fascinating permanent collections, offers an exhibition on the Rio Carnival. And, know it, it is also a way of approaching the history of the carnival of Nice.
Indeed, Nice being a winter resort, received Emperor Pedro II of Brazil in 1888. And Pedro II was under the spell of the Nice carnival and its famous battle of flowers. On his return to Brazil, he intervened so that the carnival of Rio is inspired by that of Nice.
And now, the Carnival of Nice and that of Rio have become the most famous of all carnivals.
Usefull informations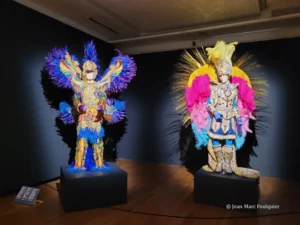 Massena Museum
65 Rue de France / Promenade des Anglais
a stone's throw from the Negresco hotel
From February 2 to March 5, 2023
11:00 a.m. to 6:00 p.m.