---
The bathroom of the studio in Nice includes a shower, very functional, as well as a washbasin and WC. A washing machine is installed there. For body and hair, we provide a pack of ORGANIC products.
Bathroom video
Bathroom equipment of the studio in Nice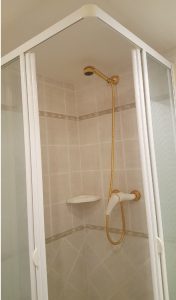 It is equipped with a shower with sliding glass walls. It also has a sink with mirror.
The toilets are also located in this same room.
The bathroom of our studio in Nice, for lack of space, is not equipped with a bidet.
Bathroom washing machine
A washing machine is available. It therefore has a capacity of 7kg and has simple and intuitive settings:
On/off button
Rinse hold
Spin or no spin
Door opening (1 minute delay after end of washing)
Choice of temperatures (from 30°)
Choice of cycle, more or less lon
Storage in the bathroom
The bathroom also includes storage for body care and cleaning ORGANIC products.
We can offer body and hair care products. They are available free of charge to our visitors for short stays (less than 1 week).
---
Jean-Marc Foulquier