Our practical informations on Nice will help you live Nice better by making your stay easier. Indeed, you are wondering about transportation from the airport or the train station, about parking lots to park your car, about museum passes, etc. We answer you in a precise and concrete way.
Practical informations Nice-Côte d'Azur airport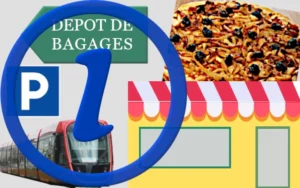 The Nice-Côte d'Azur International Airport has two terminals. In front of each of them the Tram L2 stops to allow you to get back to the center of Nice. We give you all the information about it.
You can also return to your accommodation in Nice by cab. The rates are regulated.
Practical informations about parking lots in Nice
Where to park your car during your stay in Nice? Are there free parking lots, paid parking lots, guarded parking lots? Nice-riviera.com lists parking lots and much more. We introduce you to phone applications and even a self-help site between individuals.
Click at the top of the page, under the heading Learn more .
Nice urban transport
In Nice, transportation is particularly well organized and inexpensive. There is a network of buses from the Lignes d'Azur company that runs through Nice in all directions.
There are also streetcar lines, particularly convenient, including for those arriving at the airport or train station.
We give you all the useful details, tips to make the best choice.
The French Riviera passes
If you are visiting Nice, the French Riviera and the hinterland, then, you will need passes. There are several to choose from, depending on the extent of your visits and the length of your stay.
We present these passes in detail, again above, in the Learn More section.
The Tourist Office
The Nice Tourist Office is a must for anyone who wants to visit without worry. Indeed, a multilingual staff welcomes you and, having a very extensive documentation, they will be able to answer all your questions. An essential organization for any visitor.
Document to download
Nice-riviera.com offers documents for download. First those coming from the Tourist Office and also available on their website, but also documents own and exclusive to nice-riviera.com . In free and immediate download.
History of Nice
We thought it might be useful to know a little about the history of Nice and its region. A history strongly tinged with Italy, our friends and neighbors, although it has never been Italian and has been French only since 1860.
---
Jean-Marc Foulquier