Essential shops surround our rental apartment in Nice. Let's say that 8-10 minutes walk, you will find everything you need.
Essential shops: Organic food
Organic food
There are two organic supermarkets in the immediate vicinity of the apartment:
Naturalia
Corner of Rue de France and Boulevard Gambetta
4 mins walk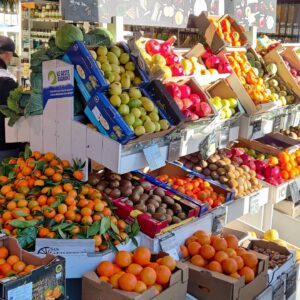 Bio Coop
2 Place Grimaldi
7 mins walk
Organic bread
An organic artisan baker offers bread, pastries, pastries, all in organic products. Almost in front of the building.
Bio Brød
46 rue de France
Non organic food
Carrefour City
15 rue Meyerbeer
2mn à pied
Carrefour Market
9 Boulevard Gambetta
5mn à pied
Other convenience stores
Lidl: 19 rue Dante, 9 minutes on foot
U: 85 rue de France, 3 mins walk
Etc
cheese factory
Nerys, Fromagerie du Carré d'or
54 Rue de France
2 mins walk
The Ferme fromagère
3 Rue Maccarani
6 mins walk
Wines from all regions of France and elsewhere
Cave Rivoli
6 rue de Rivoli
4 mins walk
Nicolas
7 Rue Maccarani
6 mins walk
Fair trade coffee from around the world
Coffee Frei
Fair trade coffees from many countries, often in beans, some in capsules.
52, Rue de France
2 mins walk
Artisanal ice cream parlor
Christophe Artisan Glacier
Another ice cream parlor that seeks to present quality products. Why not, the ice creams are appetizing. Indulge.
17 Rue de France
3 mins walk
Canastel, la réputation faite par ses clients
Word of mouth has made this ice cream parlor a benchmark. The basic products are of high quality and the laboratory is open at the back of the shop. Here, the ice cream is therefore made on site. The choice of flavors is wide. Also note, a specialty: the creponé, a kind of lemon sorbet originating from North Africa and which has become quite rare.
Finally, the icing on the cake, you can sit down indoors or outdoors and savor its flavors.
4 Bd Gambetta
5 mins walk
Italian grocery
L'Italien
75 rue de France
3 mins walk
Essential businesses: Restaurants
We recommend some restaurants in our neighborhood, the Carré d'or, in our page on restaurants in Nice.
---
Jean-Marc Foulquier