Beaches of Nice stretch from the Quai des Etats-Unis to the airport. That's around 5km of beaches.
And for another (small) part, they're on the other side of the port, towards Mont Boron.
Beaches of Nice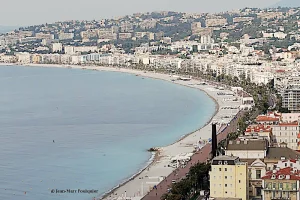 On the Quai des Etats-Unis – airport section, the beaches are partly private, partly public. Note that there are fewer private beaches than public open spaces. And each private beach leaves a 3m clearance along the seafront.
All beaches are covered with pebbles. These have their detractors as well as their adepts. To each his own. Pebbles are less invasive and cleaner than sand. But they're also harder to cross or lie on.
In the area beyond the port, towards Mont Boron, the beaches of the Bains militaires, the plage de la Réserve, the plage Coco Beach (in the rocks) and the plage de la Plateforme cover a relatively modest surface area. But these less-frequented beaches have their regulars.
Authorized / prohibited

Dogs and other pets are prohibited on beaches, except those authorized. See below.

Motor vehicles are prohibited, except for work.

Picking up and carrying away pebbles is prohibited.

It is forbidden to practice wild camping or bivouac by the sea. No tents to spend the night. But you can sleep on the beach, under the stars, without a tent.


Smoking is allowed on beaches, except those without tobacco. See below.

We can practice toplessness, but not nudism.
Supervised beaches in Nice
Some beaches are supervised by lifeguards in summer, generally from early June until mid-September. The supervised beaches are:
Carras
Sainte Hélène
Magnan
Poincaré
Florida
Forum
Lido
Centennial
Beau rivage
Ponchettes
Coco Beach beyond the harbor
Dog beaches
During the summer, dogs and other pets are only allowed on Nice's designated beaches. Outside summer, the ban remains in force, but dogs are tolerated on many beaches.
Here are the Nice beaches where dogs are allowed:
beach of la Lanterne,
the one of Lenval
and Carras beach.
The disabled beaches
Disabled people in wheelchairs benefit from a special area. Gentle descent and hard surface for circulation. Disabled beaches are located
on the Centenaire beach, opposite the Albert 1er gardens (The floor slab was damaged and fractured by storm Aline on October 19, 2023).
and Carras beach, to the west
.
Non-smoking beaches
Several beaches are non-smoking. These are
beach of centenaire
the one of Bains Militaires,
the one of Lenval.
Sports beaches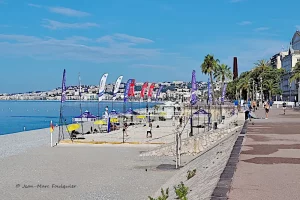 The Opéra beach allows parasailing.
Blue Beach offers parasailing and towed buoys.
The Ponchettes beach in summer hosts 2 beach volleyball courts, with fine sand floors.
Some kitesurfers launch from the Magnan beaches, to the west.
From the port, initiations to scuba diving are organized.
---
Jean-Marc Foulquier