Christmas, New Year's Eve in Nice give rise to highly coveted festivities. If Christmas itself is a rather family celebration, for many the children's holiday sometimes without religious connotation, its expectation gives rise to magical events. December becomes the month of lights, pleasure and expectation. And finally, New Year's Eve comes to end the year and open the new year with extraordinary festivities.
On the occasion of the festive season, the city of Nice lights up and offers a magnificent Christmas village.
Illumination for Christmas, New Year's Eve and New Year's in Nice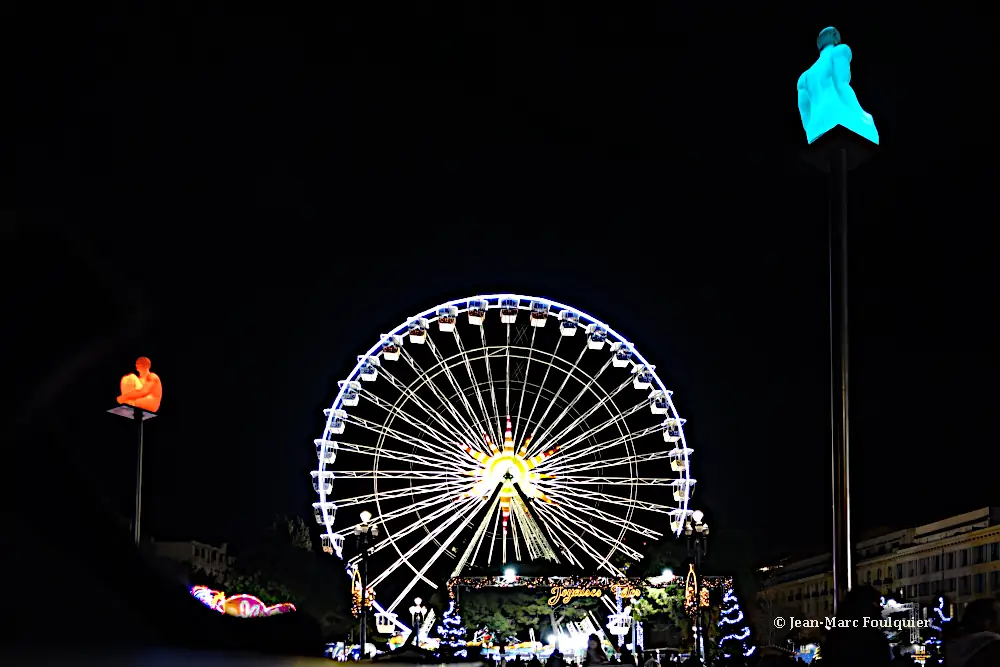 Throughout December and into early January, the city lights up. The Promenade des Anglais, already magnificent, becomes truly magical with its palm trees with "luminous trunks". The garlands
For information, all the bulbs are LEDs, so very low consumption and recyclable.
In Nice, the illuminations are
485 illuminated palm trees
More than 130 km of light curtains
49 7-meter fir trees
Almost 850 horizontal and vertical patterns
Lighting of the facades of Place Masséna
etc.
Christmas Village
The Christmas Village traditionally runs through the month of December, up to and including January 1.
It is established in the Albert 1er garden, on the edge of the Massena square. This very important village hosts about fifty chalets, fairground attractions, such as the superb Ferris wheel, animations, etc. In Nice, we do not come to look at the Christmas village, visitors are used to settle there and spend a long and good time.
In fact, one attends free shows, aimed at young and old. We taste local or Christmas specialties. We taste the thrill of the Ferris wheel or, the moving pleasure of the old-fashioned carousel. Everywhere you can admire the Christmas tree and the illuminations. And of course, we stop in front of Santa Claus' house. This one does not hesitate to walk also in the alleys, to meet the children.
Bref, in Nice, the Christmas village is an unmissable space and moment!
Other Christmas, New Year's Eve and New Year's events in Nice
Promenade du Paillon
Outside on magnificent Christmas Village, other animations take place in the Promenade du Paillon, on the other side of Place Massena. Street animations call out to passersby, always giving joy to children.
A great shopping parade
In the middle of December, a shopping parade is held on Avenue Jean Médecin. In 2022, it takes place on December 12, from 4:30 to 6pm. Gift distribution, street performances, mini-concerts, etc.
The Living Nativity scene
A living nativity scene, complete with life-size automatons and animals, can be seen in Rossetti Square. Of course, for their well-being, the animals are present only from 5 to 8 p.m.
Around the crib other animations are planned, gospel songs, stories, etc.
Place Rossetti, in the Old Nice.
In the other districts of Nice
Christmas and its illuminations also affect other areas of Nice than the center. Thus, playful or musical animations are organized every year. For example,
Saint Mauritius
St. Margaret's
Pasteur Neighborhood
St-Antoine de Ginestière
Port district
etc.
Practical Christmas, New Year's Eve and New Year's information in Nice
Christmas Village
Open daily from 11 a.m. to 9 p.m., Friday and Saturday until 11 p.m., except December 24 and 31, closing at 7 p.m.
Santa Claus House
Open from December 1, 2022 to January 1, 2023, daily from 11 a.m. to 8 p.m., Friday and Saturday until 10 p.m..
Great Wheel
Daily from 11 a.m. to 8 p.m., Friday and Saturday until 10 p.m.
---
Jean-Marc Foulquier