The Cours Saleya in Nice is the most famous street of the Old Nice, with its famous flower market. Parallel to the nearby Promenade des Anglais, this street is very popular with the locals and tourists. It is one of the rare pedestrian streets of the Old Nice.
Cours Saleya in Nice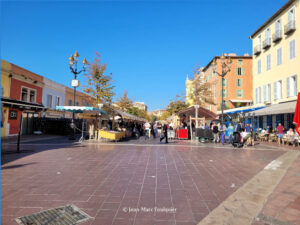 It is a wide, famous, but very short road. In fact, it measures little more than 200 meters. In the morning the square is occupied by the flower market. In the afternoon, the bars enliven the street, giving it a cheerful and festive life. A large part of the youth meets here as well as the cosmopolitan visitors.
The Cours Saleya is one of the main entrances for those who want to visit Old Nice. There are restaurants with touristy cuisine as well as more authentic Nice menus.
The Cours Saleya flower market in Nice
Food market
From Tuesday to Sunday, a market is set up on the course, in the morning, until 13:30. Many stands offer food products, partly local, olive oil, fruits and vegetables, etc.. But there are also flower sellers, stands with shimmering colors.
Let's face it, the name flower market does not fully reflect the stalls installed, but they are more numerous than in traditional markets.
Bars and Restaurants
Once the food market is over, the municipal services intervene immediately to tidy up and clean the area. In the afternoon, the restaurants occupy the course, in addition to their tables outside.
Flea market
On Monday, all day long, the space becomes a flea market. The food stands are replaced by stalls of old objects. The inhabitants of Nice discover what they need for their decoration and the visitors stroll around.
---
Jean-Marc Foulquier