See also:
Old Nice is the oldest part of the city. Located between the hill of the Castle in the East, the Garibaldi square in the North, the sea in the South and the old course of the Paillon river (today the green corridor), the Old Nice has kept its personality, its colors, its vestiges.
The Old Nice is not a pedestrian zone even if no car ventures there, except deliveries.
The Old Nice, a stroll not to be missed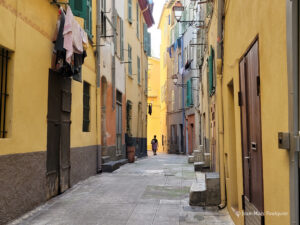 A stroll is a must among the narrow streets, lined with countless shops. You will find a profusion of goods and in particular in many stores of local products: oil or lemons, for example. The stalls sometimes overflow on the street, giving an atmosphere of souk.
You will be able to stop in the bars, the restaurants or in front of the ice cream parlors.
Don't forget also to admire the architecture of the buildings in the Art Deco or baroque style for some. Here is what you can admire among the essential sites of the Old Nice.
🕒 Estimated visit: between 2 and 3 hours of stroll, excluding the duration of visits to shops, churches, museums or palaces.
What to see in the Old Nice

In blue, the sites of Old Nice to visit
Orange the remarkable businesses
Green, route to the castle hill
Cours Saleya and flower market
Palace of the Dukes of Savoy and former prefecture
Chapel of Mercy
Les Ponchettes
House of Adam and Eve Rue de la Poissonnerie
Church of the Holy Trinity and the Holy Shroud
Church of St. James the Greater
Saint François Square + Saint François Butchery + Saint François Tower
Rue Pairolière
Lascaris Palace
Rossetti Square
Cathedral of St. Reparata
📸 See also:
Notable shops in Old Nice
The castle hill
The names of Old Nice
Old Nice is also called Vila-Vielha in the Nice language, the Old Town.
But, the name Babazouk is also attributed to him. Babazouk? This name would come from its history and its confrontation with the Turks who were allies of the French, but also from its configuration which can remind one of a souk. It would mean the Gateway of the souk. Although strange, this name is sometimes used by locals.
---
Jean-Marc Foulquier