The historical shops of Nice reflect the traditional activities of the Nice region. Indeed, one finds there the jewels of nature: the olive tree and the flowers. In other words, olive oil and perfumes. Without forgetting the sweetness of life with its sweets.
Confiserie Maison Auer
We've edited a special page on the Maison Auer in Nice that you absolutely must know about.
This is the realm of gourmet food. Indeed, this business is all at once that of an excellent pastry chef, chocolatier and confectioner who excels in all his fields.
---
Alziari Olive Oil
We have edited a special page on the Alziari oil mill in Nice that will amaze many about the quality and diversity of the products offered.
The Nicolas Alziari oil mill in Nice has existed since 1868. It still extracts oil by mechanized processes. It offers traditional oils with an incomparable taste, but also personalized oils, to discover.
---
MOLINARD perfumery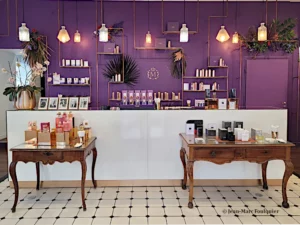 Perfumery Molinard is a local and family-owned company, which offers handcrafted perfumes, made in Grasse, the world capital of perfumery. For 5 generations now, the family has been creating subtle perfumes and declining them into home fragrances, candles, soaps, creams, etc. Everything here breathes elegance. In Old Nice, near the Opera.
20 rue St François de Paule, in Old Nice
60, boulevard Victor Hugo and 16, place aux Aires in Grasse
Molinard
---
Parfumerie FRAGONARD

Fragonard is another historic family-owned perfumery in Grasse. It creates refined perfumes, witnesses of an ancestral know-how of excellence. Unforgettable perfumes, but also other home or body products that perfume magnifies. Very interesting perfume museum.
In the Old Nice, 100m from the Opera.
11 Cours Saleya in Old Nice
3 Rue Jean Ossola in Grasse
Perfume museum, 20 boulevard Fragonard in Grasse
Fragonard
---
Jean-Marc Foulquier