The Nicoise salad has become an almost universal salad. In fact, it is found offered throughout the south of France and the Mediterranean basin.
Preparation of the Nicoise salad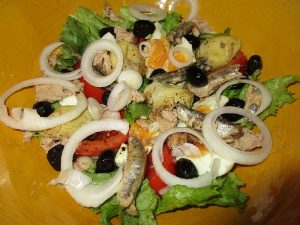 This salad was originally made with tomatoes and anchovies, drizzled with olive oil. But the recipe quickly evolved, adding red onions, hard-boiled eggs, olives. Sometimes the anchovies are replaced by tuna.
In short, the salade niçoise has been adapted to the ingredients of the season and to the tastes of the gastronomes. It can be presented on a bed of green salad.
Not in the salade niçoise
But never, never, never add potatoes or green beans to it, otherwise you may be preparing an excellent salad, but more niçoise.
Salade niçoise is made with raw vegetables.
---
Jean-Marc Foulquier