Public transportation in Nice is particularly well developed. Between trams, buses and trains, you'll find a way to get around almost the entire region.
Trams, useful public transportation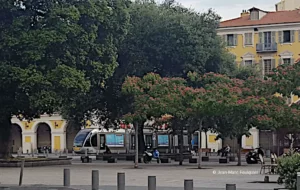 There are 3 streetcar lines serving Nice East-West and North-South.
Line 1: Henri Sappia-Hôpital Pasteur
This streetcar line serves, among other places, Thiers station (the central station), Jean Médecin commercial avenue, Massena square and goes up north, along Vieux Nice, passes Garibaldi, etc.
Line 2: Airport-Port Lympia
Line 2 serves both Nice-Côte d'Azur airports, runs parallel to the Promenade des Anglais, then past Centre Universitaire Méditerranéen, makes a detour to Alsace-Lorraine, passes Jean Médecin, Garibaldi and arrives at its terminus, opposite the port.
Beware for the return trip, the line splits in two. Well choose between airport or Cadam.
Line 3: Airport-Saint Isidore
Line 3 leaves from the airport and serves the Saint Isidore neighborhood, including the Allianz-Riviera stadium. In the airport-Saint Isidore direction, it runs until 9:55 pm. In the return direction, Saint-Isidore-Airport, it operates until 00:00 on weekends and 00:06 on weekdays.
160 bus routes
Various tickets
To travel by streetcar or city bus, it is the same ticket.
One-way ticket, valid 75mn in the same direction (no round trip).
You must validate your ticket at each transport, inside the streetcar or bus.
Some of the main lines include
The city heart electric shuttle serves the city center in a large circuit, passing every 15mn.
Line 5 serves the Matisse and Chagall museums to Avenue Jean Médecin and Place Massena.
Line 12 which runs along much of the Promenade des Anglais to Vieux Nice.
Line 23 serves Thiers station (central station), a small part of the Promenade des Anglais to Vieux Nice.
Outside lines
These lines do not work with tickets for city lines.
Monaco
LR100 line from the port
Villefrance-sur-mer, Beaulieu-sur-mer, Saint-Jean-Cap-Ferrat
Line15 from the port
Fares and tickets for Azur Nice lines
In addition to monthly, quarterly and annual tickets, for residents there are several tickets available.
One way ticket

1 day pass

2 day pass

7 day pass


Pack 10 trips.
Tickets can be purchased at the agency or, more simply, by phone, using the app
NFC Nice Ticket for Android
Nice Ticket for iPhone
The phone serves as the ticket if it is equipped with NFC (contactless payment).