The blue chair by SAB has been present on the Promenade des Anglais since 2014. Symbolically, it represents the mythical blue chairs that are arranged facing the sea and that the people of Nice love and use.
The blue chair of SAB
So since October 2014, the blue chair by Sabine Geraudie has been enthroned on the Quai des Etats-Unis, at 107. You can't miss this giant sculpture, it is located at the Albert 1er gardens.
Sabine Geraudie alias SAB
The dream of Sabine Geraudie was to become an artist. She started with drawing and then for several years, she incorporated a collective workshop. She discovered oil painting, she was then inspired by photos for her coated canvases, then Sabine Geraudie turned to pebbles.
In 1986 , the Vosges woman moved to Nice and then offered "art on demand". It was during a request from a client who wanted a work representing happiness, the difficulties in accessing it, but with a Nice touch, that the beginnings of the blue chair of SAB were born.  Sabine Geraudie researches, documents and creates two staggered chairs with a body trying to catch the sun.
After this commission, she continues and continues to work on the blue chair.  She was inspired by the old blue chairs by Toldo, but also by the new ones, designed in 1990 by the designer Jean-Michel Wilmotte. And so the blue chair by SAB was born.
The blue chair of SAB is a sculpture, a jewel, a bean…
This blue chair of SAB is a success, she registers the model at the INPI (National Institute of Industrial Property).
The creation of the blue chair in 2D really launched the career of Sabine Geraudie.
The blue chair from SAB thus becomes a piece of jewelry, a diamond-paved pendant, which can be found at Bijouterie Ferret, 2 Av. de Verdun, 06000 Nice.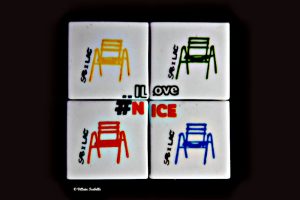 The SAB chair also comes in chocolate at patisserie LAC.
Those who were lucky enough to buy a king's cake in one of the Lac pastry shops, discovered a very beautiful colored bean with the effigy of the chair of SAB. Thus, a set of 4 beans is offered for sale, one yellow, one green, one red and finally one blue.
SAB is an artist with a big heart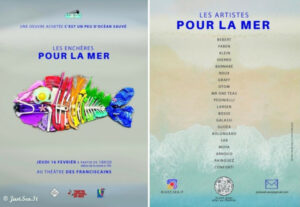 She does not hesitate to give her time, to create works for sales to benefit associations, defending children, the fight against breast cancer, against polio.
Very frequently solicited, Sabine Geraudie answers present to defend a cause that is particularly close to her heart.
Recently, and more precisely on February 16, 2023, she donated a work for the operation "The Auction for the Sea" organized by the association Just Sea It in order to support the preservation of the sea beds of Nice. The "Auction for the Sea" operation brought in €42,000.
Information
Workshop of Sabine Geraudie
23 rue Pastorelli
06000 Nice
See also our page:  the Nice blue chairs
---
Jean-Marc Foulquier