The exhibition Robert Doisneau : le merveilleux quotidien is presented at the Musée de la photographie Charles Nègre in Nice. It runs from October 14, 2023 to January 28, 2024.
The exhibition Robert Doisneau : le merveilleux quotidien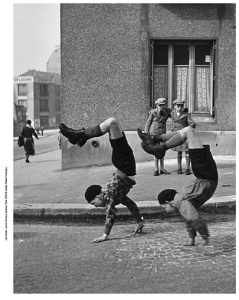 This Robert Doisneau exhibition in Nice features 110 photographs. 78 of these are black-and-white photographs of the wonderful everyday life of Paris and its suburbs. The exhibition highlights 40 years of his career, from the 30s to the 70s.
Another section, Palm springs 1960, deals with the construction of a golf course in the middle of the Colorado desert. But beyond that, the life of the retirees who live there. These photos are in full color.
We are delighted by the photographer's eye, always focused on the beautiful, the simple, the convivial, the unusual, the comical. Doisneau's photographs are like an ethnographic study in which each person brings his or her own sensibility and share of dreams.
Who is Robert Doisneau
Robert Doisneau (1912-1994) is one of the world's most famous photographers. He owes his popularity to his photographs of everyday life. Robert Doisneau became a freelance photographer (1946 for the Rapho agency). He was then able to devote himself to his observation of everyday life, between two commissioned reports.
He worked for the most prestigious agencies, receiving numerous awards (Prix Kodak in 1947, Prix Nièpce in 1956, Prix du livre des rencontres d'Arles in 1979 and 1980, Prix national de la photogrpahie in 1980, Prix Balza in 1986, etc.). Major museums host his exhibitions (Chicago Museum of Contemporary Art, Modern Art of Oxford, Moscow Multimedia Art Museum, Festival des rencontres d'Arles, etc.).
In short, Robert Doisneau, through the quality of his sense of observation, is the photographer who will have had the greatest impact on his contemporaries, both French and foreign.
Practical information
Museum of photography
1 place Pierre Gautier
towards the flower market
---
Jean-Marc Foulquier