The Hill of the castle is a natural height in the South-East of Nice. This hill separates the Old Nice from the port. It offers various interests: exceptional panoramas, a beautiful waterfall, a playground, ruins, etc.
The Castle Hill in Nice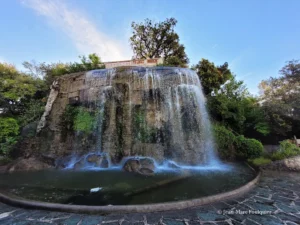 The altitude of this hill, yet located on the edge of the sea, goes up to 92m. That is to say, it is about the difference in altitude that one must climb to reach its summit. This hill is isolated and dominates the city and the surroundings. Perfectly arranged, it offers sublime panoramas and other points of interest.
Panoramas from the Castle Hill
Several places offer extraordinary panoramas, extending to infinity. Here are some of these viewpoints, on the west side. There are others, from the Bellanda Tower, from the Cascade, from the summit where there is an orientation table. But also, on the East side, with superb views of the port.
Waterfall of the Castle Hill
One of the poles of interest of the hill is its waterfall. The water comes from the Vésubie river and its water supply basins, whose flow it regulates.
The loud sound of the waterfall can be heard from afar, the spray jumps to our faces according to the direction of the wind, in short, it is a great pleasure offered, as well to the visitors as to the people of Nice, who willingly frequent the hill.
Playground of the Castle Hill
La Colline du château has not one but several playgrounds. First, there is the children's area, with a wooden castle, slides, climbing net, etc. Next to it, there is a large area, without any facilities, where older children can create their own activities, usually sports.
Access to the Hill
It is accessed by
from the Promenade des Anglais, by several flights of stairs at the end of the rue des Ponchettes
from the old Nice by the Auguste Kerl rise (le Camin dou casteu) at the end of the castle street
or from the port, through the street of Foresta (Camin San Tourpès) and the Monfort hill which becomes the Eberlé hill (Camin de Limpia).
---
Jean-Marc Foulquier