The Odyssey and Ulysses dominate Nice 's Castle Hill. Indeed, beautiful mosaics evoke the work of Homer, in connection with Nice's Greek origins.
Evocation of the Odyssey and Ulysses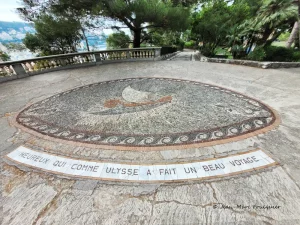 On the castle hill, leading to the large terrace overlooking the port, a few mosaics adorn the steps.
They evoke Homer's Odyssey and the adventures of Ulysses.
In the 1960s, Charles Catherin, chief architect for the City of Nice and a Greek culture enthusiast, came up with the idea for this pavement. He designed the motifs.
And it was another Nice municipal employee, mason Honoré Gilly, who created the mosaics. They are made up of tesserae of tiles and pebbles.
.
Origins de Nice
Nice has distant Greek origins, since the Greeks built a port at the foot of the hill. See our page on the history of Nice.
The locality's name is attested in the forms Nicaea [oppidum] in the 1st century AD. C.; Nikaia in the II century; Nicaea, Nicia in the ive century; [fratribus] Niciensi in 1119; Niza in the XIII century; Nisse in the XIVe century, Niça in 1436 (Occitan form).
The toponym is derived from the Greek word (thea) nikaia "that gives victory ". Nikaia is an epithet attached to the name of a deity, perhaps Artemis or Athena, honored in Marseille. It would therefore be one of the many Greek toponyms of the Mediterranean coast (cf. Fos, Antibes, Agde).
(© wikipedia)
---
Jean-Marc Foulquier