Ici Là-Bas is an eco-responsible shop in the Old Nice. This store offers many decorative objects, tableware and accessories. Artists and craftsmen, either from Nice or its region, or from many countries in Asia, Africa, Europe or even Latin America, have created most of the objects.
The objects offered by Ici Là-Bas in Nice
From Nice or Madagascar, South Africa, Mexico, India, Zambia, Vietnam, etc., the hand of the craftsman is the same, the vision of the world is the same: to make beautiful and useful with what is thrown away because deemed worthless. Worthless?
A boutique café?
This business is meant to be social. Indeed, it reserves a part of the premises to certain artistic activities and one can take a coffee there by sharing what one is. What activities? Bach flowers, herbalism, sewing, watercolor, manual creations, etc.
Ici Là-Bas and fair trade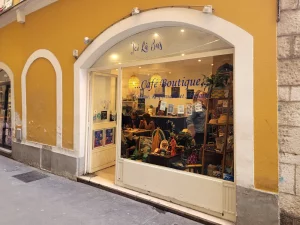 Ici Là-Bas is an ethical, responsible and solidarity-based café/shop in Nice.
Indeed, the pieces offered are from local or foreign crafts. The selection takes into account the environmental quality of production, the social impact of activities, working conditions and remuneration of artists or craftsmen.
And this implies that most of the objects are made of recycled materials: iron cans, plastic bottles, aluminum paper, telephone wires, etc.
And the other objects?
The artisans make the other objects with local materials, such as bamboo, beeswax, etc.
This is tantamount to saying that buying becomes an ethical and supportive gesture.
Practical information
Ici Là-Bas
37 rue Droite
in the Old Nice
---
Jean-Marc Foulquier