The Matisse museum in Nice is installed in a beautiful house in the Cimiez district of Nice. You can admire many of his works: paintings, sculptures and drawings.
Matisse museum in Nice
The Matisse museum exhibits many works directly from the donations of the artist himself or his heirs.
It is therefore an exhibition of 31 paintings, 454 drawings and engravings, 38 gouaches cut out, 57 sculptures, etc. Thus, we admire the works that were dear to him, that he kept for himself or his relatives.
We find his masterpieces painted in his studio in the Place Charles Felix, his odalisques in particular, and his gouaches cut out of the Villa Regina, but also his sculptures, etc.
Finally, we also admire works that inspired him. A dialogue is established between the works, like snapshots of Matisse's life.
Matisse in Nice and its region
Matisse (1869-1954) loved Nice, which he discovered in 1917. Indeed, he made many stays and used several places in Nice: Old Nice, Mont Boron, Carabacel, Cimiez, etc.
He lived in Nice for most of his life, for 27 years. He also lived in the Nice region for about 40 years.
Matisse died in 1954. He is buried in the cemetery of the Monastery of Cimiez.
The Villa des Arènes and the Museum
The villa in which the museum is located dates back to the 17th century. It was built for Jean-Jérôme de Gubernatis, then president of the Senate of Nice and ambassador of the Dukes of Savoy.
The house was bought several times by different owners, until it was bought by the city of Nice in 1950. It took the name of Villa des Arènes.
And it is in 1963 that the Matisse museum was created.
Practical information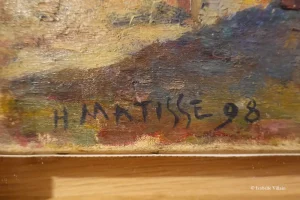 Matisse Museum
164, avenue des Arènes de Cimiez
06000 Nice
Access by bus
Lines 5, 18, 16, 40, 33
Stop : Arènes / Matisse Museum
Open every day except Tuesday
from 10am to 5pm, from November 1st to April 30th
from 10am to 6pm, from May 2nd to October 31st
Closed on January 1st, Easter Sunday, May 1st and December 25th.
Those interested in Matisse's life and work (and not only his period in Nice) can refer to his long description in Wikipédia.
---
Jean-Marc Foulquier