The No finish line 2023 in Nice takes place from May 14 to 19, 2023, on the Promenade des Anglais.
The No finish line 2023 in Nice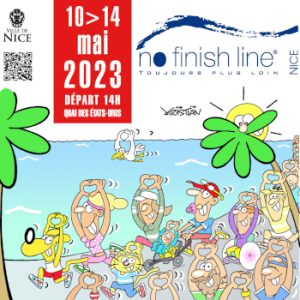 The No finish line is a sporting event, without a start or finish line. One runs there as a sportsman, with friends, colleagues or quietly as a family, one walks there, in short, one participates as one wants, when one wants.
The goal is therefore not to win, but to participate. And in doing so, to fund projects in favor of disadvantaged or sick children of the French Riviera.
1km = 1€.
The No finish line 2022
In 2022, this event had provided 54,655 kms. You read correctly: 54,655 kms covered by 3142 participants. The sum was entirely paid by the association No finish line, thanks to its partners and sponsors.
Practical information
Individual registrations: they can be done via the site www.sport-up.fr until 08/05/2023
Or by email on the official website.
Official Site
---
Jean-Marc Foulquier