The 26th Nice Book Festival takes place from June 2 to 4, 2023. Organized by the city of Nice, this event takes place under the presidency of Giuliano da Empoli, Grand Prix of the French Academy for his premonitory novel The Magus of the Kremlin.
On the program, shows, meetings and dozens and dozens of authors present, to be discovered on stage or among the very many barnums of the Albert 1er garden.
Nice Book Festival 2023 meetings
France Bleu Azur provides a dozen hours of airtime on the event and organizes meetings-debates.
Alia Zegaoula, Gil Florini then Géraldine Coullaud-Boudy, Kaotik 747, David Foenkinos, Haydée Otero, Julien Soulié, Valentin Musso, Bernard Minier, Claude Rizzo, Laurence Peyrin, Franz-Olivier Giesbert, Gilles Paris, Jacques Pradel, Didier Van Cauwelaert, Sylain Tesson, Isabelle Carré, Françis Huster, Bruno Solo, Lilas Spak, Clara Laurent, Richard Pogliano, Romain Sardou, Christine Angot, Mélissa Da Costa, Olivier Dorchamps, Vladimir Fédorovski, Eric Garandeau, Thierry Vimal, Grégory Regnier, Janine Boissard, Guillaume Nery, etc.
I invite you to know better the complete program of this very big literary event, on the official website of the Nice Book Festival.
Signing sessions
In addition to the many authors already mentioned, the organizers have also invited a hundred others. Among the authors you can meet are Tonino Benacquista, Boris Cyrulnik, Irène Frain, Douglas Kennedy, Jean-Christophe Ruffin, Alain Vircondelet, Bernard Werber, etc.
Prize Nice Baie des Anges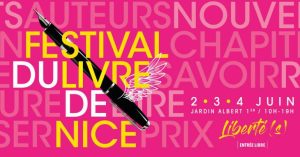 This Nice Baie des Anges prize will be awarded on May 17, 2023 and will be officially presented during the Nice Book Festival.
The jury, chaired by Franz-Olivier Giesbert, is composed of Paule Constant, from the Goncourt Academy, Irène Frain, Aurélie de Gubernatis, Didier van Cauwelaert, Laurent Seksik, Jean-Luc Gagliolo and Nicolas Galup.
The books in the running are:
Averse. Des nouvelles des indésirables, J. M. G. LE CLÉZIO (Gallimard)
Avalanche, Raphaël HAROCHE, (Gallimard)
La douceur, Etienne de MONTETY (Stock)
This is not a news story, Philippe BESSON (Julliard)
Aranea. The legend of the Emperor, Alexandre MURAT (Fleuve Noir)
La malédiction de la Madone, Philippe VILAIN (Robert Laffont)
Tous immortels, Paul PAVLOWITCH (Buchet Chastel)
Baltic Song, Olivier ROHE (Allia)
Youth Prize: The book of the students of Nice
A literary prize is awarded to a work for youth, by the students of Nice. Under the direction of the author Susie Morgenstern.
This prize will be awarded on May 4 and officially presented on Thursday, May 4, 2023.
Nominees include:
Frankie: What a Movie by Marie Chartres, from L'Ecole des loisirs
Les Magies de l'Archipel, tome 1: Arcadia, by Estelle Faye at Nathan
The Musketeers' Circle: On Guard by Chrysostomo Gourio, Baribal éditions
Mission Kidnapping for Erin, by Anne-Gaëlle Morizur, Editions Goater.
Shows
The Little Cabin, from My 18 Exiles, by Susie Morgenstern
Sunday, June 4 11:00 am at the Francis Gag Theater, musical reading of the author's texts.
Free admission, on reservation
Practical information
Albert 1st Garden
From 10 am to 7 pm
Free admission
---
Jean-Marc Foulquier