These other outstanding food stores in Nice are among the best in their field. This is only a first selection, other shops would have deserved to be presented here.
The quality of the products and their taste are here, even if, when it comes to taste, there may be different appreciations.
Quirino, fresh pasta and catering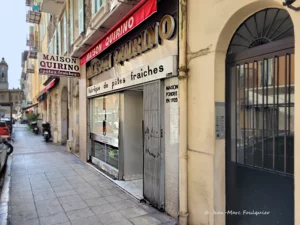 Quirino's fresh pasta, meaning pasta, gnocchi, ravioli and their derivatives: capelletti, agnolotti, etc., are all made on the spot. These products could not be fresher, made by specialists from Nice since 1925. Quirino is a rare pearl that can only be found in Nice. So take advantage of it to rediscover the taste of fresh pasta from the past. The house also prepares Nice specialties, with the authentic recipes. A must!!
10 Rue Bavastro – 06300 Nice
209 Av de la Californie – 06200 Nice
4 Boulevard Garnier – 06100 Nice
Marché du Cours Saleya, Allée centrale -06300 Nice
Official website
Pâtisserie Moutet
Gaël Moutet is a pastry chef, a pastry chef who makes his cakes in so laboratory, in the back of the store. All the cakes are made on site. What makes his pastries original are the flavors or the associations of flavors that renew the genre. We find in certain pastries the usual flavors but we also discover cakes with mango, banana and pecan, etc. The flavors depend on the season. And above all, these cakes are less sweet and the taste of the ingredients comes out more. To know.
Pâtisserie Moutet
7 rue du Collet, in Old Nice.  
Official website 
Alexis Monod, chocolatier

Alexis Monod is a chocolate and sweets artist. An artist indeed, for his creativity, both gustatory and visual. We can say that he is also the king of trompe l'oeil. He surprises us with a handbag, pumps, peas, sausages, etc.. Not to mention all the future new creations he is preparing for us. It's beautiful and it's good.
The products are from fair trade (cocoa from Ivory Coast, Papua New Guinea, Uganda, Vietnam) or come from the surroundings: roses, violets, verbena from Tourette-sur-loup, etc.
Aexis Monod
18 Rue Pairolière in Old Nice
Official site
Pascal Lac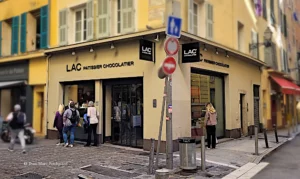 Pascal Lac, a reference in chocolate and pastries.
It was in 1995 that the Lac family set up shop in their first laboratory in Beaulieu-sur-mer. Pascal and Valerie make and sell their very first chocolate creations. Then, the interest of the customers growing, they settle in Nice. They are even forced to open several stores, in front of the growing demand and the recognition of the professional world. Indeed, they obtain several times the supreme reward, recognized among the "best of the best" chocolate makers in France, by the Club des Croqueurs de Chocolat.
18, rue Barla (north of the port and Old Nice)
49, rue Gioffredo (towards Place Massena)
12, Rue de la Préfecture (Old Nice, pictured here)
Confiserie Florian
Florian is an establishment that has interested foodies since 1921. It offers candied fruits, chocolates, jams and other confections, all made in the Pont du Loup, Tourrettes-sur-Loup, in the hinterland, where the local producers of their raw material are located. And the crystallized flowers, do you know?
14, Quai Papacino – 06300 Nice
Official website
The Vanilla Tree
The macaroon is declined according to each region. In Nice, pastry chef François Ducroux focuses on simplicity, naturalness and taste. His macaroons keep the taste of their ingredients: the violet from
Tourettes-sur-Loup
, the lemon from
Menton
, the orange from the hills of Nice, the almond from
Provence
, etc. Gluten-free and lactose-free macaroons.
7, Avenue Auber in Nice
Official website
Angea's Treats
Handcrafted production of fresh Macarons, iced Macarons, and other traditional Nice confectionery. In the Old Nice. 1 table inside and some seats outside allow to taste the macaroons with greediness.
6 rue de la Poissonnerie
06300 NICE
Gourmandises d'Angéa
Cloves and Cinnamon
Nice delicatessen where to find local products but not only. From spices to balsamic vinegar through olive oil, truffles, teas, cooked dishes, etc.
4 Rue Pairolière, 06300 Nice
Cloves and cinnamon
Brasserie Artisanale de Nice
Organic craft beer factory
14 avenue Villermont – Nice (Liberation district)
Monday through Friday from 5pm to 7pm and Saturday from 10am to 12pm and 4pm to 7pm
Brasserie Artisanale de Nice
Also available at Taste of Nice
Soleia
Liqueurs artisanales aux oranges locales
21 Ch. du Cimetière Est, 06300 Nice
au Nord de l'autoroute A8
Soleia
---
Jean-Marc Foulquier