Socca of Nice is a typical Nice dish, made of chickpea flour and olive oil. It was a popular dish that, over time, became typical and very popular.
Preparation of Socca of Nice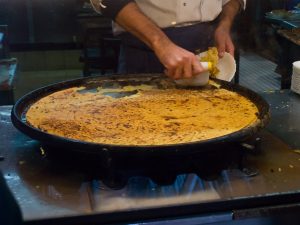 First, a round galette is shaped, which is placed in a well oiled mold, preferably copper. Oiled, with olive oil, of course.
In the wood-fired oven, the dough takes on a beautiful orange-yellow color.
Consumption
It is eaten, preferably warm, to appreciate its slightly crispy surface and its softer heart. Nowadays, it is served as an aperitif or as an appetizer. More rarely, it can be used as a main dish outside.
This socca, like other preparations of the same type throughout the world, was both economical to make, practical to transport, easy to eat and particularly rich nutritionally.
Peasants, sailors, and all those who worked hard outdoors could therefore find there, if not a meal, at least a snack, a snack that would keep the body going.
---
Jean-Marc Foulquier