In Vieux Nice, you'll find an exceptional boutique, the Comptoir de la rose, based entirely on products made from… roses. Roses grown without pesticides, and regularly tested for heavy metals. That gives you confidence.
Comptoir de la rose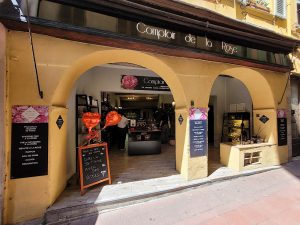 The rose, you know. It's that flower known since antiquity and transformed, hybridized to give over 3,000 cultivars. But it's the Centifolia rose that remains the queen of perfumers' rose fields. The queen, but not the only one, of course. Centifolia is accompanied by Rose Tango (or Rose de Vence) and Rose de Damascena, for example.
And if mankind has always sought to use its fragrance, Comptoir de la rose has decided to sublimate the rose, in all its forms, to let you discover it in surprising, original and very gourmet forms.
Perfumes and cosmetics
Of course, there are perfumes and cosmetics.
Rose eau de parfum is beautifully delicate, fragrant and long-lasting. For men and women alike.
But rose also provides its benefits in the form of scrubs, bath salts, shower foam, etc.
Eternal roses
But Comptoir de la rose also offers eternal roses. That is, compositions of real rose petals that never age.
Gourmet food
Beverages like special beers or rose-flavored rums, or liqueurs. And a whole range of delicatessen items: salt, pepper, garlic confit à la rose, tomato confit, petal jam, honey, syrup, crystallized petals, olives à la rose, etc. Not forgetting teas and infusions.
Ambient fragrances
Rose is an excellent way to perfume home interiors, in home fragrances, sprays, candles and more.
In short, Le Comptoir de la rose is a whole new and oh-so-pleasant universe…
Rose picking
Nothing to hide, just a love of roses to pass on. When we tell you that roses are grown in the Grasse region, it's true. And you can even take part in the rose-picking, by registering in advance at the boutique.
Among the fields of roses, you'll select the flowers best suited to developing their aroma. Don't worry, we'll teach you how. Then you'll pick them by hand, gradually filling your basket. Delicate picking, always done by hand as in the old days.
History of Comptoir de la rose
This business was born of a shared energy, that of a Grasse rose grower, Larry Pasetti, and that of Stéphanie Aufrère, who was already managing the rose grower's marketing.
Together, since they already owned the raw material, roses, they came up with the idea and the desire to sublimate this emblematic flower.
A first store will open in Grasse in 2020, then in Cannes in 2021 and finally in Nice in 2022.
Practical information
Addresses
5, rue Amiral de Grasse
06130 Grasse
37, rue Meynadier
06400 Cannes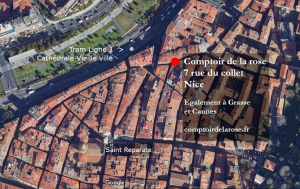 7, rue du Collet
0600 Nice
---
Jean-Marc Foulquier