The Petit pan de mur jaune is an artist's studio by painter Isabelle Decoster, in Nice. Of course, the studio's name refers to Ver Meer's Vue de Delft and Marcel Proust's A la recherche du temps perdu. But what do we find in this artist's studio?
The Petit pan de mur jaune à Nice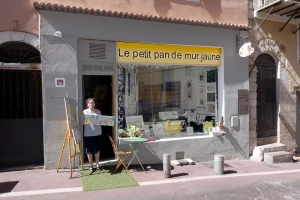 Visual artist Isabelle Decoster's atelier-boutique is well-stocked and colorful. There are as many oil paintings as watercolors, as many gouaches as charcoals, as many acrylics as inks, as many pencil works as collages, and so on.
This diversity of techniques is matched by a wide range of inspirations. Landscapes, the human body, flowers, but also movement, abstraction and more.
This workshop-boutique is like an Ali Baba's cave, waiting to be discovered.
Isabelle Decoster
Isabelle Decoster lives and works in Nice. A graduate of the Beaux-Arts de Lille and the Ecole Supérieure d'expression Plastique de Tourcoing, she has always drawn and painted, according to her sensibility and passions. She also teaches, and to do so, she practices various techniques.
That's why, when you visit her studio, you're struck by the diversity of her inspiration and techniques.
Today, she continues to explore her art and offers workshops, for beginners and experienced alike.
Practical information
Address
Petit pan de mur jaune
3 rue Saint Joseph
in Old Nice
Isabelle Decoster's official website
Official website of the workshop and courses.
---
Jean-Marc Foulquier