Richard Orlinski exhibits in Nice, from June 8 to September 30, 2023. Ten statues by the artist are scattered around the city.
Richard Orlinski in Nice, throughout the summer of 2023
From June 8 to September 30, 2023, you can search for them with ease, since its statues are giant and colorful. A real treasure hunt to organize with the whole family. See our map below.
Map of Richard Olinski's works in Nice
Map of the locations of Richard Orlinski's works in Nice, by Nice-Riviera.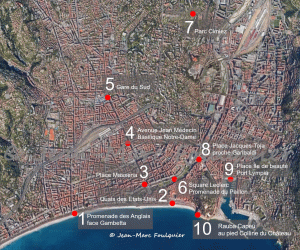 Richard Orlinski in Nice:
1 Gambetta, Negresco
2 Quai des États-Unis,  
3 Place Masséna,
4 Basilique Notre-Dame,
5 Gare du Sud, 
6 Square Leclerc, Promenade du Paillon
7 Parc du monastère de Cimiez
8 Place Jacques-Toja, Garibaldi
9 Place Île-de-Beauté, le Port
10 Rauba-Capeu, Colline du Château
Richard Orlinski
His debut
Richard Orlinski is a French artist, sculptor, but also musician, he  was born on January 19, 1966 in Paris. Art counted very early in Orlinski's life. In 2004, he made his first sculpture, then gradually began exhibiting his work in various galleries. He collaborates with chocolatier Jean-Paul Hévin, chef Frédéric Anton, Daum crystalware, Christofle goldsmiths, etc.
.
Richard Orlinski and Make a wish
In 2012, Richard Orlinski executed several crocodiles for Make a wish. This charity aims to grant the wishes of children aged 3 to 18 suffering from a serious illness. Richard Orlinski is an artist with a big heart; by auctioning unpublished works, he brings happiness and dreams to sick children.
In 2022 he is the sponsor for the auction of Janod France rockets in aid of the Make-A-wish France association. 
Richard Orlinski is a singer as he has also collaborated with Akon and Eva Simons. Video Richard Orlinski, Eva Simons with the track Heartbeat.  
In 2016, he produced the "W9 d'Or" music ceremony trophy with Wild Kong. Then, in 2017, he starred in Francis Renaud's film Les Effarés. Some of his works, including the Kong, are even on display in the villa of the reality TV show Les Anges.
Also during this year  2017, he opens his first Galerie Orlinski, which is located at 68 rue du Faubourg Saint-Honoré in the 8ᵉ arrondissement of Paris.
Then, in 2018, Richard Orlinski designs the trophy  for the winner of the Formula 1 French Grand Prix. His work named Kong brandishes a Pirelli brand tire, and can be found in blue, white and red.
On June 17, 2019, Richard Orlinski presents a one-man-show Tête de Kong at the Olympia in Paris.
Following the success of his first gallery, he created others in Paris, London, Courchevel, Saint-Tropez, Miami and New York.
In 2021, he was made an Officier de l'Ordre des Arts et des Lettres by the Minister of Culture.
Richard Orlinski's setbacks
A large number of art lovers and enthusiasts appreciate the artist, on the other hand, in the contemporary art world, Richard Orlinski is much criticized. Several artists have already accused him of forgery. First, Orlinski was condemned in 2010 for counterfeiting a light table by the artist Yves Klein. Then, in 2013, French artist Xavier Veilhan took legal action against him, but without success. Then, in June 2019, the French National Financial Prosecutor's Office opened an investigation into money laundering and tax fraud. A former collaborator, Antony Gébrier, accuses the artist of having concealed certain income from the French tax authorities. As a result, Bercy organizes a tax audit.
Success makes people envious, jealousy or not, this artist, adored by some, also arouses the hatred of many others. Richard Orlinski's works of art are vivid, beautiful and timeless, capable of arousing the wonder of young and old alike.
Richard Orlinski in Venice
In 2022, Richard Orlinski exhibited at the Giardini della Marinaressa in Venice. Visitors discover twelve monumental sculptures that give the impression of being alive. They are colorful, gigantic in size, colorful and timeless. 
Richard Orlinski in Nice, during Carnaval 2023 
Already on February 09, 2023, Orlinski exhibited a 3-meter, yellow gorilla statue. For the duration of the Nice Carnival, you couldn't miss it. It was installed on the coulée verte, Square Leclerc in Nice.
---
Jean-Marc Foulquier