Catherine Ségurane is a 16th-century heroine from Nice. Her existence is controversial, but fortunately, legends are sometimes stronger than history. Especially as she may not be just a legend.
This page is inspired by the exhibition
Héroïque Catherine Ségurane, figure légendaire de Nice,
at the Musée Massena in Nice, October 2023-January 2024.
Catherine Ségurane
Catherine Ségurane was born into a modest family in Nice, perhaps around the beginning of the 16th century. Some say her father was a fisherman. Catherine, on the other hand, was a bugadière, or washerwoman. She is also said to have been a Maufaccia (in Nicoise), i.e. ugly.
She would therefore have led an obscure, unremarkable life, with nothing to make her stand out.
But in 1543, the French king François I, allied with the Turk Barbarossa, sought to conquer Nice, then part of the Duchy of Savoy. On August 1543, 120 Turkish galleys, under the command of Barbarossa himself, reinforced by 4 batteries of French troops and numerous soldiers, attacked the city.
The battle was fierce. However, the walls surrounding the city were unable to withstand the Franco-Turkish assault, and several breaches in the wall were finally opened. Through one of them, an Ottoman tried to plant his flag.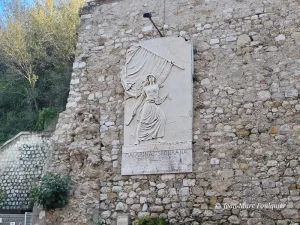 And that's when Catherine Ségurane stepped in. Armed only with her clothes peg, she struck the unfortunate man's skull so hard that he lost his life. Some say he was simply knocked out. Catherine Ségurane, in a rage, tore the flag and broke the staff. As a result, the enemy flag did not fly over the walls of Nice. This heroic action strengthened the resistance of the people of Nice, who were awaiting reinforcements sent by Charles III, Duke of Savoy. Alas, the town was taken by the attackers. But not the castle.
Finally, in September 1543, Charles III's troops arrived and put the Franco-Ottomans to flight. The bravery of the washerwoman would not be remembered until some years later.
Did Catherine Ségurane exist, yes or no?
Her existence is controversial for several reasons. Here we give you the arguments of the skeptics and those of the supporters of her existence.
There is no trace of her birth in the parish registers that held the place of civil status.


At the time, declarations of birth were not yet compulsory. What's more, in 1793, many documents were dispersed and lost. But the Segurans did exist in Nice. Finally, the name Catherine Ségurane may not be the right one, but the person did exist.
Direct witnesses to the battle say nothing of Catherine Ségurane's action, such as Jean Badat (1516-1567). Nor does Pierre Lambert, President of the Accounts Chamber of the Dukes of Savoy.


The witnesses can only know a small part of the battle, where they were. They don't witness everything that happened everywhere.
A woman, among men-at-arms, you wouldn't think of it!


Women have always helped fighters, particularly on the ramparts, in Nice as elsewhere. We know of other women who have distinguished themselves in this way.
Marie Fouré (siege of Péronne, August 1536), Philis de la Charce (defense of the town of Nyons, 1692), Jacqueline Robins (siege of Saint-Omer ,1710), Félicité and Théophile Fernig (against Austrian armies, 1792), Agustina Domenech, known as Agustina d'Arago (defense of Saragossa, 1808), Jeanne Laisné, known as Jeanne Fourquet or Jeanne Hachette (defense of Beauvais, 1785), Virginie Chesquière (27th line regiment of Napoleon's army, 1768), not to mention Jeanne d'Arc, etc.
The symbol of Catherine Ségurane
Whether she existed or not, she nonetheless remains the symbol of Nice resistance. At the time, resistance to the French and loyalty to the Duchy of Savoy. But also resistance to any invader of the Comté de Nice. Many former Nice residents feel more Nice than French or Italian.
She is also a symbol of the forgotten place of women in history.
A large bas-relief still stands in her memory on rue Saincaïre in Nice.
This page is inspired by the exhibition
Héroïque Catherine Ségurane, figure légendaire de Nice,
at the Musée Massena in Nice, October 2023-January 2024.
---
Jean-Marc Foulquier